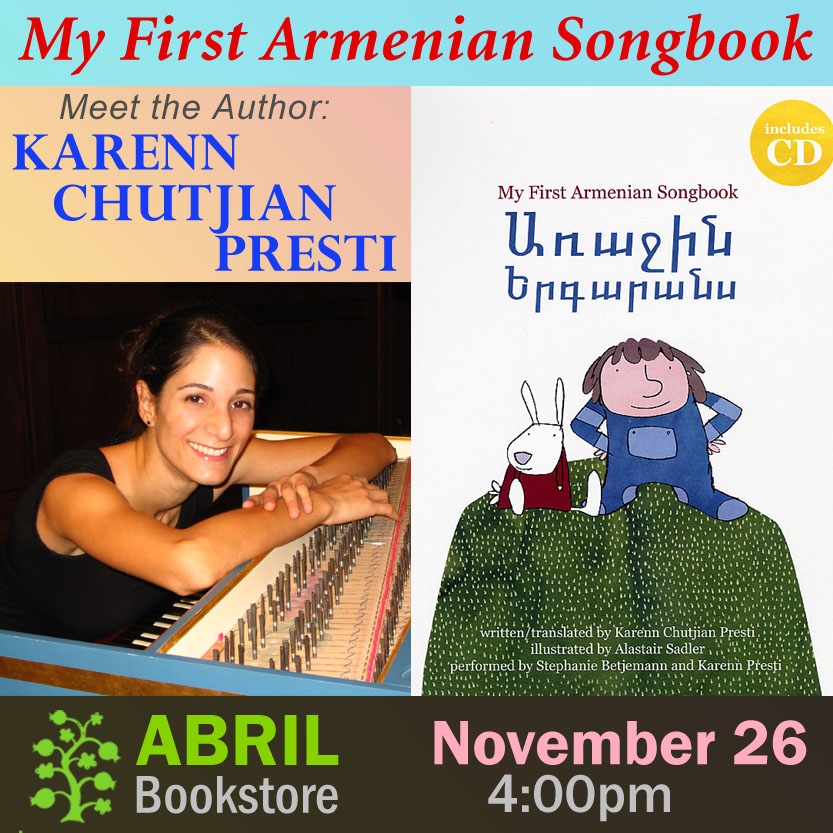 Abril Bookstore proudly invites you to meet
Author & Performer
KARENN CHUTJIAN PRESTI
Presenting her newly released bilingual children's songbook

MY FIRST ARMENIAN SONGBOOK
ԱՌԱՋԻՆ ԵՐԳԱՐԱՆՍ
A program both for children and for adults. Attendees will be introduced to the songbook, see a demonstration on how to use it, and enjoy a performance and sing-along with Karenn and her sister, STEPHANIE CHUTJIAN BETJEMANN.
SUNDAY, NOVEMBER 26, 2017 - 4:00PM
ABRIL BOOKSTORE
415 E. Broadway, Glendale, CA 91205
Admission is Free. For more information, call (818) 243-4112.
In this unique songbook, English-language songs are presented along with their Armenian translations in order to celebrate both traditions. This comprehensive edition includes original translations of traditional songs from English to Armenian and from Armenian to English. The book is ideal for children who are learning Armenian or are being exposed to Armenian culture. The rich English texts and the colorful original illustrations make it appealing to children of all backgrounds. The enclosed CD contains all the tracks in the Armenian language. The original arrangements are for voice and piano.
Karenn Chutjian Presti has been teaching music to children for twenty years and has served on the faculties of the Munich International School, Artetonal Schule für Musik, Pasadena Conservatory of Music, Lark Musical Society, and San Domenico School. She is currently on the faculty of the Herb Albert School of Music at UCLA, where she teaches languages and musical interpretation to singers, and gives classes on Armenian music and on nationalism in music.
Stephanie Chutjian Betjemann has cultivated her love of music through her background as a violinist and her participation in numerous choral groups. She is passionate about folk singing and is delighted to pass down the tradition of Armenian folk music through her participation in this project. When not singing, she deals with other functions of the vocal tract in her role as a speech-language pathologist.