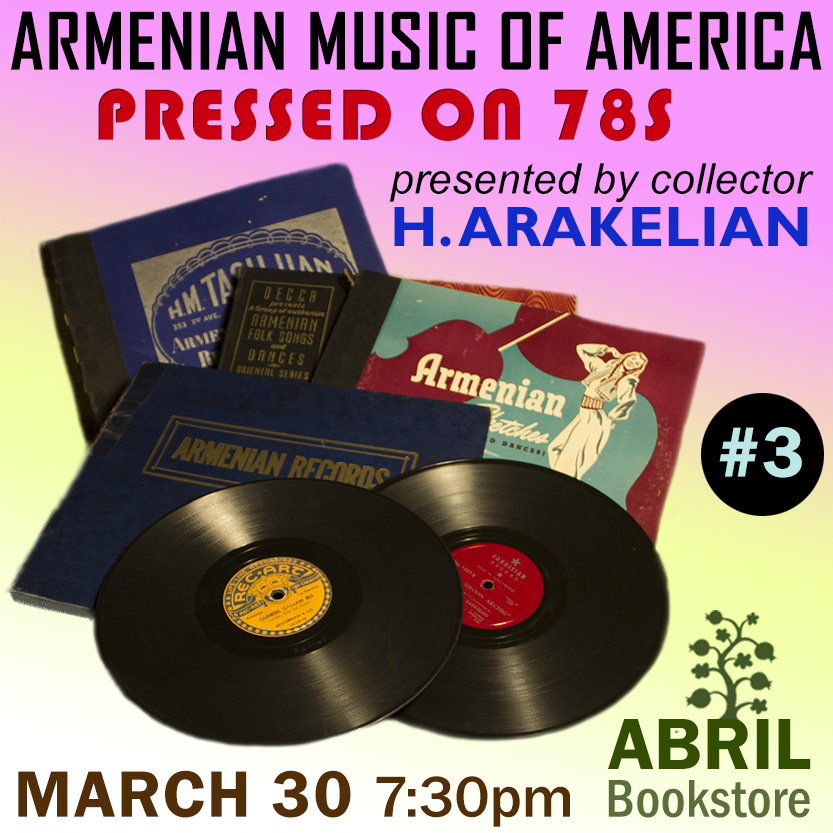 Abril Bookstore's Music Nights presents

Armenian Music of America
Pressed on 78s
with collector H. ARAKEL
- Round #3 -

SATURDAY, MARCH 30, 2019 - 7:30PM
ABRIL BOOKSTORE
415 E. Broadway, Glendale, CA 91205
Admission is Free. For more information, call (818) 243-4112.
Reserved Priority Seating available at http://www.itsmyseat.com/abrilbooks
Evening's theme:

Spring-time in California!
Join us for another exciting evening of exploring the landscapes of Armenian-American "78 rpm recordings!
Armenian Music of America Pressed on 78s
will be another evening curated by record-collector H. Arakel presenting music recorded on 78 rpm discs during the 1900s - 1950s. From the outskirts of Kharpert to South Central Los Angeles, we will continue our exploration of Armenian contributions to the landscape of American music. This evening's theme will be spring-time; sweet and sentimental songs, offerings to the future and odes to a lost past with a healthy dose of bittersweetness. Expect a unique journey from the streetcars of West Hoboken to the grapevines of California. In 1920, an Armenian musician/composer from Fresno asked a question, "Ov Ess Toun" (Who Are You?). Hear the Harpoot Hepcats and why they'll sing at your wedding!