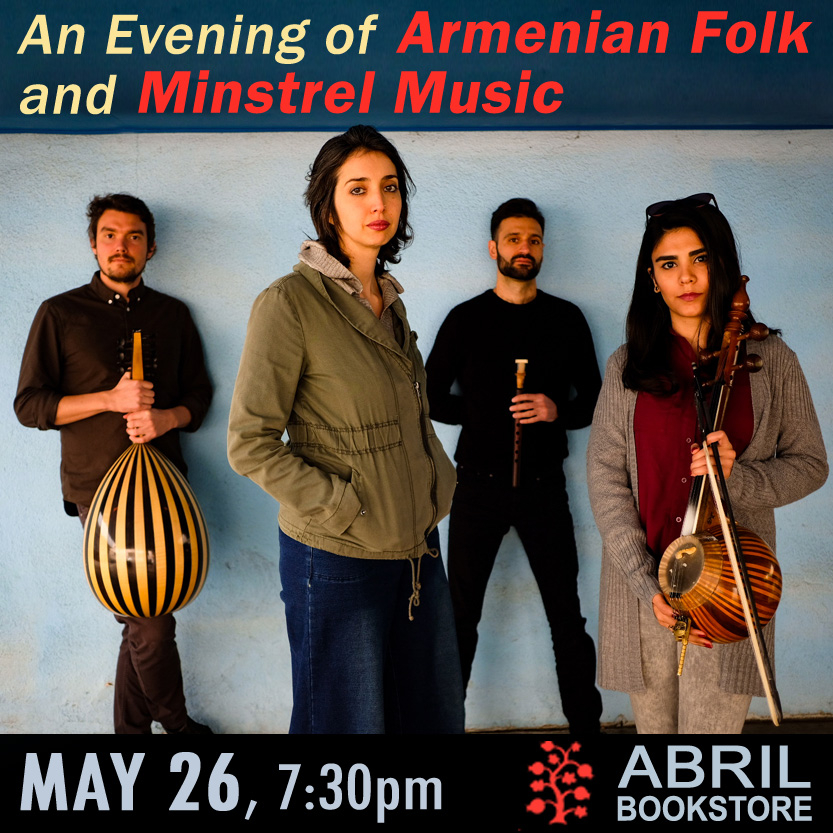 Abril Bookstore's Music Nights
presents

An Evening of Armenian Folk and Minstrel Music
by an Ensemble of Traditional Instruments

ARENI AGBABIAN, vocals
NAGHME SARANG, kamancha
GABE LAVIN, oud
ARMEN ADAMIAN, duduk
HAIK ADAMIAN, dhol

SATURDAY, MAY 26, 2018 - 7:30pm

415 E. Broadway, Glendale, CA

For more information, call (818) 243-4112.


This group is committed to preserving a performance practice informed by the rich musical culture local to Armenia and the surrounding region.

The program will consist of Armenian folk, minstrel (ashugh) and sacred music, as well as Persian classical music.
---
Abril Bookstore's Music Nights are evenings dedicated to music, through performance, lectures, meetings with artists, and any other experience dealing with Armenian music and any music enjoyed by Armenians throughout the world. Keeping the international aspect of the Armenian Diaspora in mind, these musical evenings will celebrate the music of Armenia as well as the music of the world. Evenings take place on the last Saturday of each month.
---