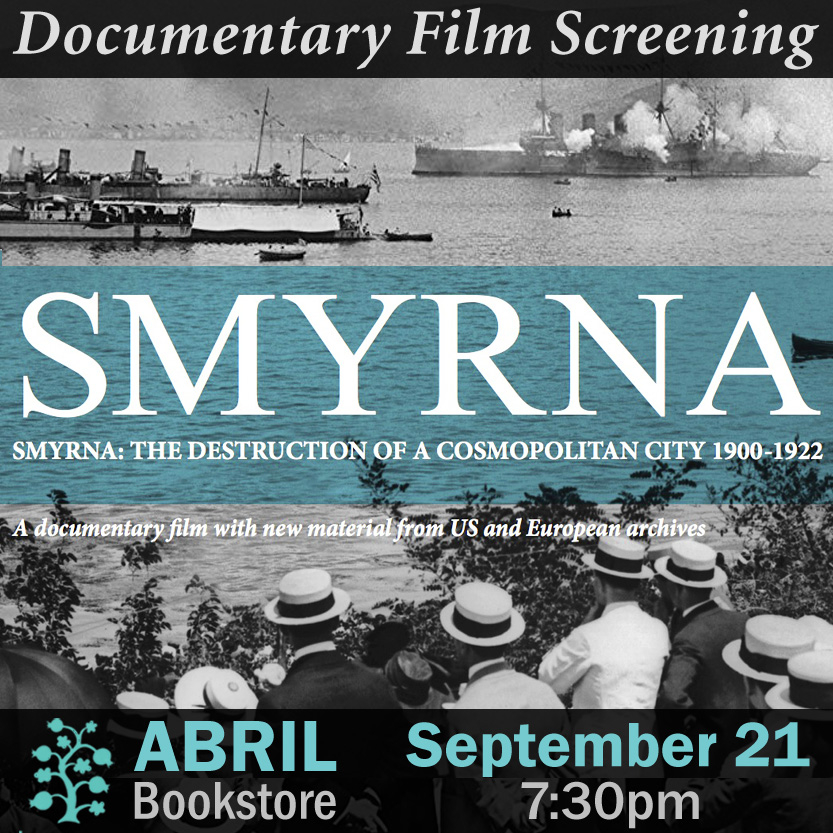 Abril Bookstore proudly presents

SMYRNA
The Destruction of a Cosmopolitan City
1900-1922
Directed by Maria Iliou

DOCUMENTARY FILM SCREENING FOLLOWED BY DISCUSSION

Introduced by:
GEORGIA STAVROPOULOS
Vice President of Hellenic University of Southern California

Special Skype meeting with historical consultant:
ALEXANDER KITROEFF

FRIDAY, SEPTEMBER 21, 2018 - 7:30pm

ABRIL BOOKSTORE
415 E. Broadway, Glendale, CA
Admission is free.
Reserved Priority seating available
at:
http://www.itsmyseat.com/abrilbooks
or by visiting Abril Bookstore.
Please call (818) 243-4112 for more information.
SMYRNA: The Destruction of a Cosmopolitan City, 1900-1922 (2012, 87 min.)
is a documentary in which award-winning filmmaker
Maria Iliou
and historical consultant
Alexander Kitroeff
tell the story of Iliou's ancestral home, the port of Smyrna (now Izmir) which grew on the Aegean coast of the Ottoman Empire into a thriving, international center of culture, commerce and tolerance, only, literally, to be reduced to ashes in eight days, in 1922, by the flames of nationalism which raged in the aftermath of World War I. In layers of measured historical commentary and never before seen film footage and photographs, Iliou and Kitroeff bring this epitome of a cosmopolitan ideal back to its remarkable life, where Greeks once lived harmoniously with Armenians, Levantines, Muslims and Jews. This moving documentary testifies to the best and worst of humanity—an early 20th Century prophecy of the turbulence to come, and a harsh but inspiring warning at the start of the 21st Century.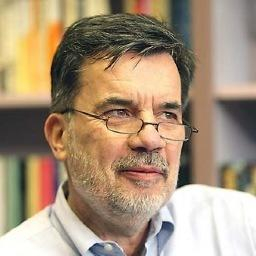 ALEXANDER KITROEFF
is Associate Professor of history at Haverford College. He specializes in the study of Modern Greek identity in a diasporic and transnational context over a wide range of fields, from politics to sport. He was born in Athens and studied in the United Kingdom, where he received his D. Phil. from Oxford University in 1984. He taught at the Center for Byzantine & Modern Greek Studies at Queens College, CUNY; the Hellenic Studies Program at Princeton University and the History Dept. & the Onassis Center for Hellenic Studies at N.Y.U. before joining the History Department at Haverford College in 1996. In the period 2004-2012 he worked with director Maria Iliou as historical consultant on the films
The Journey: The Greek-American Dream
,
Smyrna: The Destruction of a Cosmopolitan City, 1900-1922
and
Expulsion and Exchange of Populations, Turkey-Greece, 1922-1924
, as well as the corresponding photographic exhibitions and albums. In 2011-2012 he was the Venizelos Chair of Modern Greek Studies at the American College of Greece (Deree). Since 1980 he is a member of the editorial board of the magazine Journal of the Hellenic Diaspora. He is the recipient of an innovative teaching award from Haverford College and his research has been funded by a variety of foundations, including the Social Science Research Council, the Immigrant Learning Council and the Ford Presidential Library.