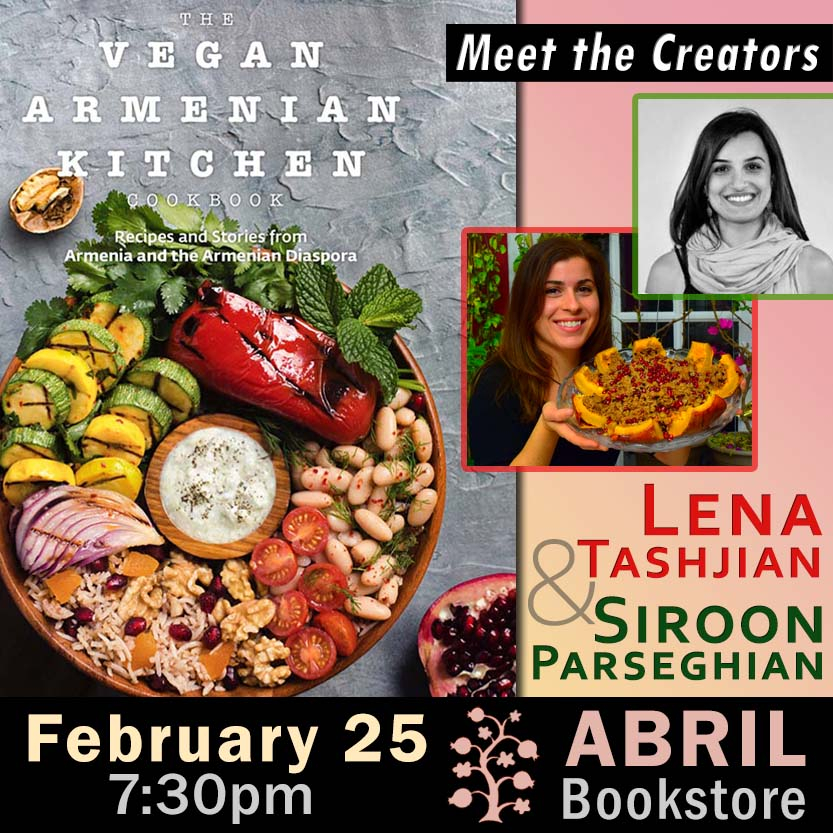 Abril Bookstore cordially invites you to meet
LENA TASHJIAN &
SIROON PARSEGHIAN
creators of the newly released book

THE VEGAN ARMENIAN KITCHEN COOKBOOK
Recipes and Stories from Armenia and the Armenian Diaspora

TUESDAY, FEBRUARY 25, 2020 - 7:30PM
(Mardi Gras!)

ABRIL BOOKSTORE
415 E. Broadway, Glendale, CA 91205
Admission is Free. Reception to follow. For more information, call (818) 243-4112.




Event is sponsored by DishDivvy
DishDivvy will be providing vegan finger foods and offering gift cards to everyone who buys a book!


THE VEGAN ARMENIAN KITCHEN COOKBOOK is a collection of plant-based recipes and stories from Armenia and the Armenian diaspora. With over 115 recipes, the cookbook takes readers on a journey through Armenian cuisine and tradition. Infused with food-related idioms, and menu pairing and holiday planning suggestions, Vegan Armenian Kitchen serves as both a cookbook and a resource that will become an invaluable part of your kitchen. It is possible to cut down or eliminate animal product consumption while still being able to enjoy Armenian classics!

LENA TASHJIAN is a writer and recipe developer based in Canada. As a diasporan Armenian who has lived in and traveled throughout Armenia, she is enthusiastic about sharing plant-based recipes and stories from both Armenia and the Armenian diaspora.

SIROON PARSEGHIAN is a Los Angeles–based photographer specializing in commercial, food, and product photography. Influenced by her multicultural roots, she is passionate about pushing the boundaries of her craft and projects.