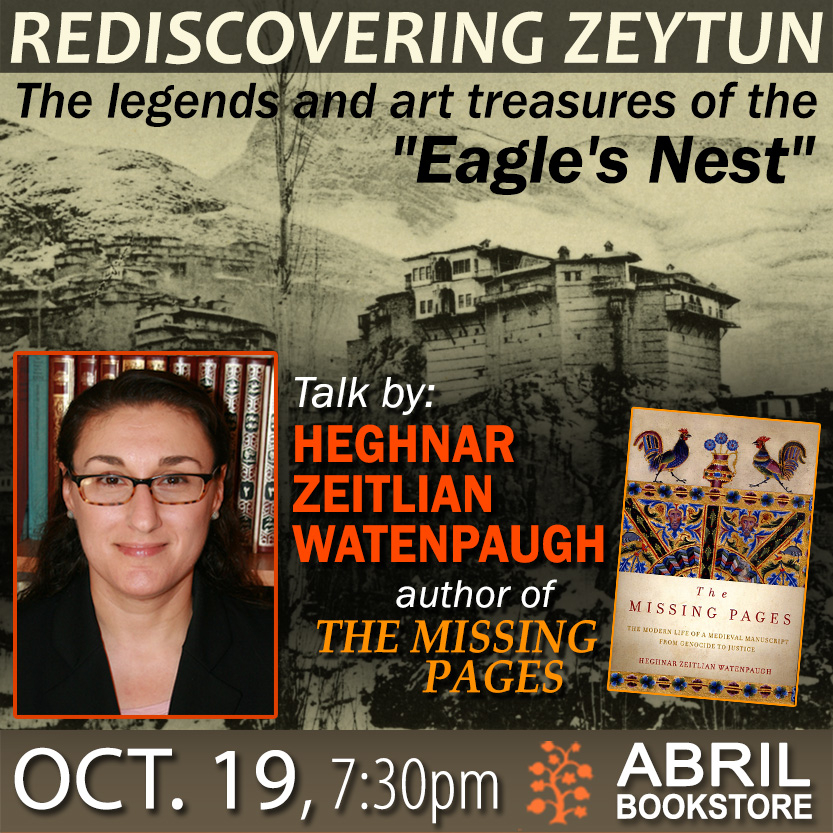 Abril Bookstore proudly present

REDISCOVERING ZEYTUN


The legends and art treasures of the "Eagle's Nest"
HEGHNAR ZEITLIAN

WATENPAUGH



Author of the newly released book


THE MISSING PAGES



The Modern Life of a Medieval Manuscript from Genocide to Justice
SATURDAY, OCTOBER 19, 2019
- 7:30PM
ABRIL BOOKSTORE
415 E. Broadway, Glendale, CA 91205
Admission is Free. For more information, call (818) 243-4112.
The town of Zeytun holds a unique place in the modern Armenian imagination. In the late Ottoman period, this stronghold in the Taurus Mountains became famous for its resistance to the centralizing state authority. Zeytun looms large in Armenian literature, where its "freedom-loving" spirit is celebrated, and in works written by European observers, as well as representatives of the Ottoman, and later, Turkish Republican states. Like many Ottoman Armenian communities, Zeytun was largely destroyed by the early 1920's, and little remains of its material culture today. Heghnar Watenpaugh will share her research on Zeytun, its architecture, its legends, and its sacred spaces, as well as its art treasures. A rare surviving relic from Zeytun, a fragment of Toros Roslin's Zeytun Gospels, is located today at the Getty Museum in Los Angeles. Heghnar Watenpaugh's book on the Zeytun Gospels, The Missing Pages: The Modern Life of a Medieval Manuscript, was published recently by Stanford University Press.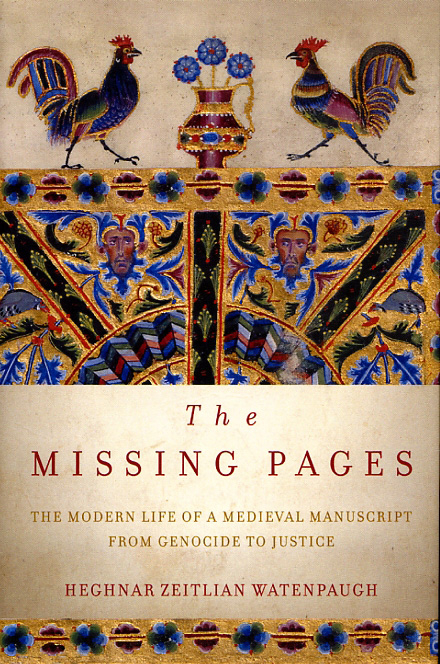 The Missing Pages is the biography of a manuscript that is at once art, sacred object, and cultural heritage. Its tale mirrors the story of its scattered community as Armenians have struggled to redefine themselves after genocide and in the absence of a homeland. Heghnar Zeitlian Watenpaugh follows in the manuscript's footsteps through seven centuries, from medieval Armenia to the killing fields of 1915 Anatolia, the refugee camps of Aleppo, Ellis Island, and Soviet Armenia, and ultimately to a Los Angeles courtroom. Reconstructing the path of the pages, Watenpaugh uncovers the rich tapestry of an extraordinary artwork and the people touched by it. At once a story of genocide and survival, of unimaginable loss and resilience, The Missing Pages captures the human costs of war and persuasively makes the case for a human right to art.

HEGHNAR ZEITLIAN WATENPAUGH is Professor of Art History at the University of California, Davis. She is the award-winning author of The Image of an Ottoman City: Architecture in Aleppo (2004). Her writing has also appeared in

the

Los Angeles Times

, and was featured in a BBC series about cultural heritage lost during the current conflict in Syria.