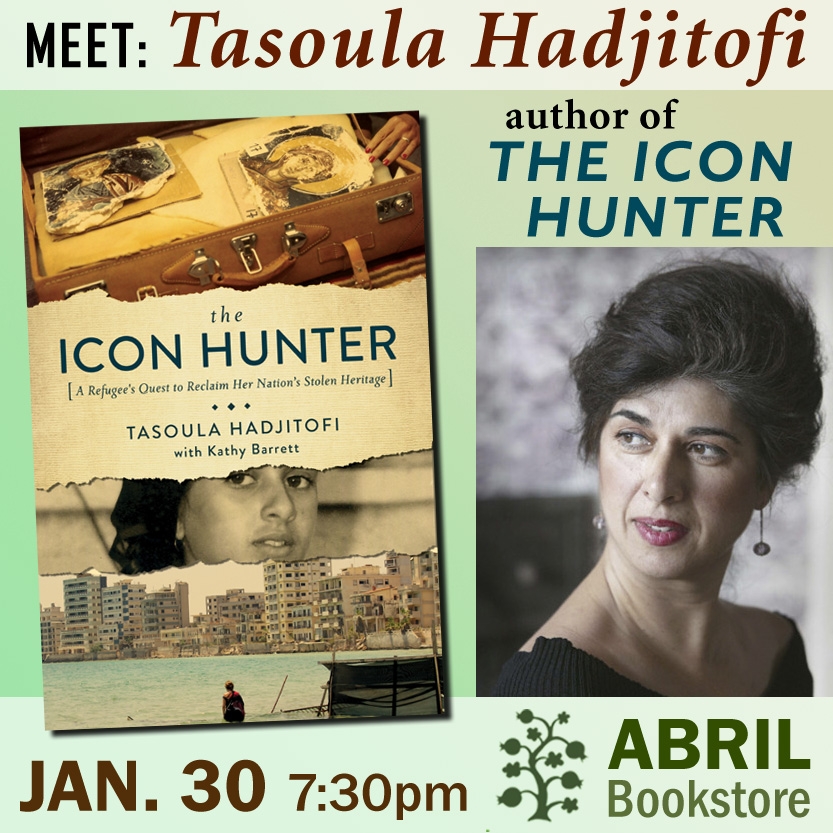 Abril Bookstore proudly invites you to meet
TASOULA HADJITOFI
Author of the newly released book

THE ICON HUNTER:
A Refugee's Quest to Reclaim Her Nation's Stolen Heritage

TUESDAY, JANUARY 30, 2018 - 7:30PM
ABRIL BOOKSTORE
415 E. Broadway, Glendale, CA 91205
Admission is Free. For more information, call (818) 243-4112.
THE ICON HUNTER is a story torn from the pages of Tasoula's life as she and her Greek Cypriot family lose everything during the Turkish invasion of Cyprus. Hundreds of ancient Cypriot churches are destroyed, their contents looted and all signs of her Greek Cypriot culture erased as if it never existed. And then fate intervenes in the form of an archbishop and a dubious art dealer in search of redemption.

In this powerful memoir, Tasoula Hadjitofi reveals her perilous journey orchestrating "The Munich Case"―one of the largest European art trafficking stings since WWII, which uncovered thousands of looted antiquities. Tasoula places everything on the line to repatriate her country's sacred treasures, unaware that treachery lies in the shadow of her success. Using family and faith as her touchstones, Tasoula takes on these "merchants of God" as she navigates the underworld of art trafficking. Tasoula believes this to be her calling, and the Archbishop of Cyprus entrusts her―an ordinary woman, wife, and mother―with the mission to repatriate these icons, mosaics and other artifacts. In order to succeed, however, she must place her trust in an art dealer known for his double-dealing.
Inspiring and empowering, The Icon Hunter is a gripping story by a remarkable woman that will captivate readers long after the final page.
TASOULA HADJITOFI was born in Famagusta, Cyprus. In 1974, she and her family were forced to flee their home due to the Turkish invasion of Cyprus and the outbreak of war. Tasoula has served as the Honorary Consul of Cyprus in The Netherlands, and while holding this office she spent more than two decades recovering the stolen cultural and religious heritage of her homeland. Tasoula is the founder of Walk Of Truth, a NGO whose mission is to raise awareness about the importance of preserving cultural heritage in conflict areas. She lives in the Netherlands with her family.
"A gripping memoir. Hadjitofi exposes the 'underworld of art traffickers' with intricate detail as she documents all the legal loopholes and battles that stand in the way of repatriating stolen artifacts. The book is a powerful and important chronicle of art trafficking and its impact on the lives of those torn apart by war, and Hadjitofi is a caring and exacting storyteller."—Publishers Weekly

"Hadjitofi's journey is endearing, and she brings the plight of the Cypriots into sharper focus. An intimate trek into the venal world of art looting and selling."—Kirkus Reviews