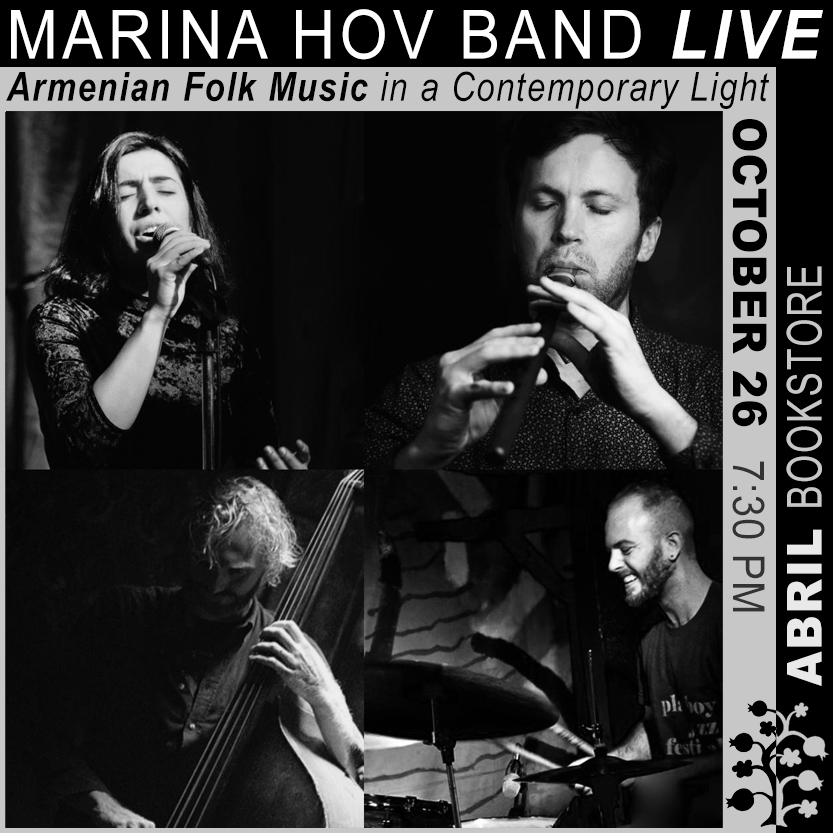 Abril Bookstore's Music Nights
presents

MARINA HOV BAND LIVE
Armenian Folk Music in a Contemporary Light
Featuring
Aaron Kruziki — saxophone
Karl McComas-Reichl — bass
Greg Lewis — drum kit
Marina Hovhannisyan — lead vocals


SATURDAY, OCTOBER 26, 2019 - 7:30pm
ABRIL BOOKSTORE
415 E. Broadway, Glendale, CA
ADMISSION:
$15 Advance,
$20 Door
For more information, call (818) 243-4112.
MarinaHov Band brings together the old and the new, reinterpreting ancient folk music in a contemporary light. This event features old classics from Komitas and Sayat Nova, as well as folk songs with undocumented composers. Laced with improvisation and not averse to a little psychedelia, MarinaHov Band brings forth breathtaking music for the future conjured from the distant past.
---
Abril Bookstore's Music Nights are evenings dedicated to music, through performance, lectures, meetings with artists, and any other experience dealing with Armenian music and any music enjoyed by Armenians throughout the world. Keeping the international aspect of the Armenian Diaspora in mind, these musical evenings will celebrate the music of Armenia as well as the music of the world. Evenings take place on the last Saturday of each month.
---