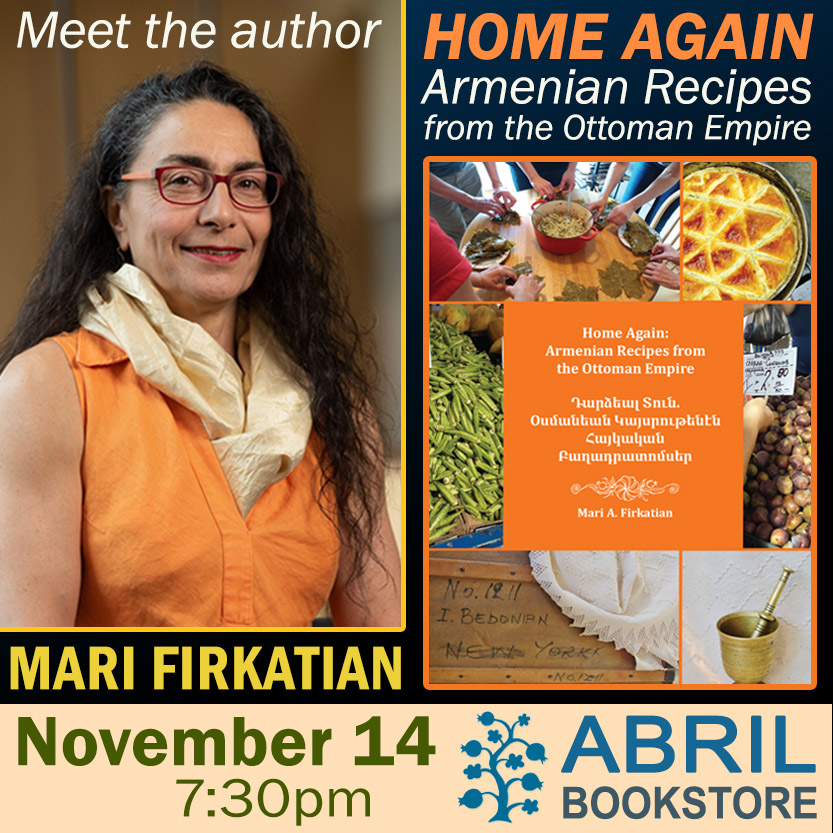 Abril Bookstore cordially invites you to meet
MARI FIRKATIAN
author of the newly released cookbook/memoir

HOME AGAIN
Armenian Recipes from the
Ottoman Empire

THURSDAY, NOVEMBER 14, 2019 - 7:30PM

ABRIL BOOKSTORE
415 E. Broadway, Glendale, CA 91205
Admission is Free. For more information, call (818) 243-4112.
HOME AGAIN
combines a collection of over 175 Armenian recipes from the Ottoman Empire with a memoir of a family of immigrants who kept certain recipes close to their hearts as a means of preserving their cultural heritage. The author examines the relationship between history and cuisine, between displacement and memory, between the individual and their ancestors. Working over 10 years to collect authentic recipes from the descendants of Armenians who fled their homeland, the author brings forth a book that aligns some rare recipes with history and personal anecdotes of dozens of Armenian cooks.
MARI FIRKATIAN
is a professor of history at the University of Hartford in C
onnecticut
. She teaches Western Civilization and Global History. She has been a Fulbright Scholar and a National Endowment for the Humanities Fellow as well as a Yale University Fellow. She has lived and traveled extensively in Southeast Europe and the Soviet Union. With a formal background in linguistics and history, Firkatian's research interests include minority populations, diplomatic history and intellectual history.