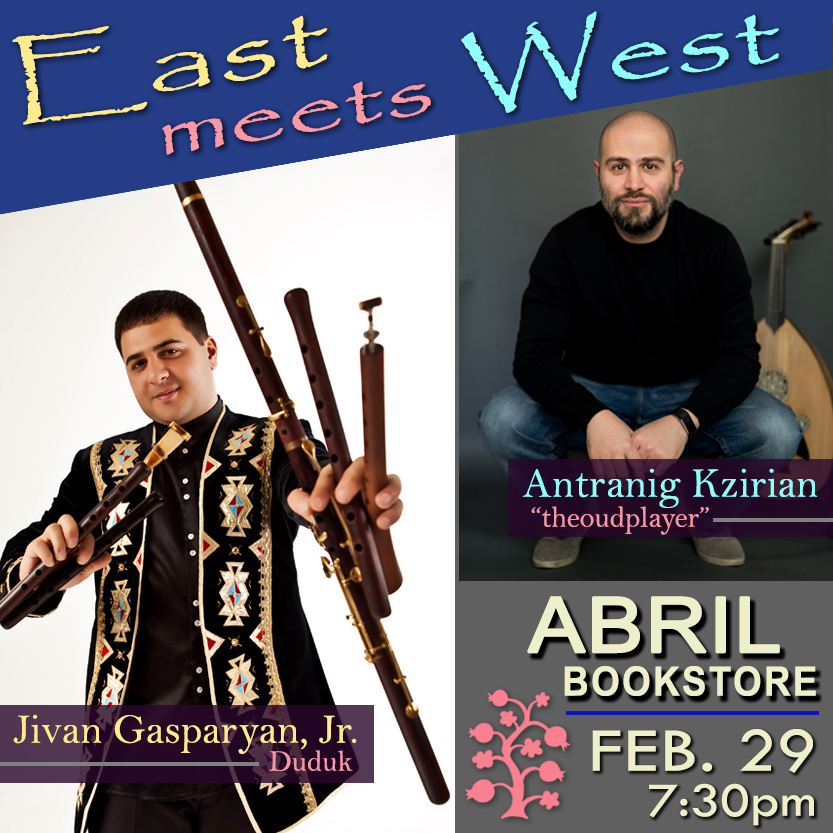 Abril Bookstore's Music Nights
presents

EAST MEETS WEST
Storytelling with the Oud and Duduk

ANTRANIG KZIRIAN
"theoudplayer"
- Oud

JIVAN GASPARYAN, JR.
- Duduk


SATURDAY, FEBRUARY 29, 2020- 7:30pm
ABRIL BOOKSTORE
415 E. Broadway, Glendale, CA
For more information, call (818) 243-4112.


EAST MEETS WEST is a concert of traditional Armenian folk and classical music performed on the oud (fretless pear-shaped plucked string instrument) and the duduk (double reed woodwind instrument). The oud and the duduk both represent key components of Armenian cultural identity - one in the diaspora telling a story of pain, dispossession and loss, and the other in today's homeland telling a story much the same. One plucks at our heartstrings, and other symbolizes our breath and souls - both are inextricably intertwined in the story of the Armenian people.

ANTRANIG KZIRIAN (theoudplayer) is a foremost practitioner of the ancient, fretless pear-shaped string instrument which has been critical to the development and identity of Armenian music. Kzirian released his performance collection album 'nOUD' in November 2017 to much critical acclaim, featuring a variety of original, traditional, classical, folk and jazz compositions highlighting the dynamic versatility and artistry of the oud. As a versatile performer playing and creating music in various styles, Kzirian blends rock, classical, jazz, and folk idioms for breathtaking reimaginations of vintage works, while providing unique and extravagant soundscapes as a songwriter.

JIVAN GASPARYAN, JR. has traveled all over the world spreading the message of the duduk tradition, and has studied the instrument since his youth. Gasparyan has shared his art form within earshot of some of the most influential and notable artists, leaders and even royalty at several concerts and festivals. Gasparyan is a versatile performer who incorporates jazz, folk, rock, blues and various fusion elements into his recording and live performances. The grandson of famed duduk master Jivan Gasparyan, he has blazed a new and exciting trail with his own vision and musical dreams, which also includes his own original compositions.


---
Abril Bookstore's Music Nights are evenings dedicated to music, through performance, lectures, meetings with artists, and any other experience dealing with Armenian music and any music enjoyed by Armenians throughout the world. Keeping the international aspect of the Armenian Diaspora in mind, these musical evenings will celebrate the music of Armenia as well as the music of the world. Evenings take place on the last Saturday of each month.
---