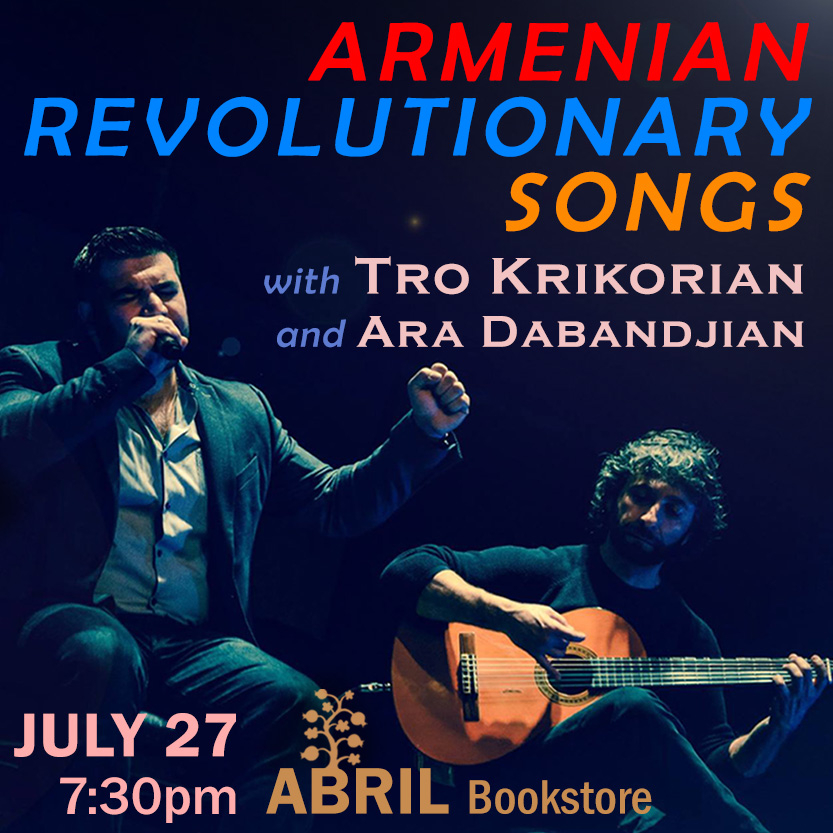 Abril Bookstore's Music Nights
presents

ARMENIAN
REVOLUTIONARY
SONGS
with TRO KRIKORIAN
and ARA DABANDJIAN

SATURDAY, JULY 27, 2019 - 7:30pm
ABRIL BOOKSTORE
415 E. Broadway, Glendale, CA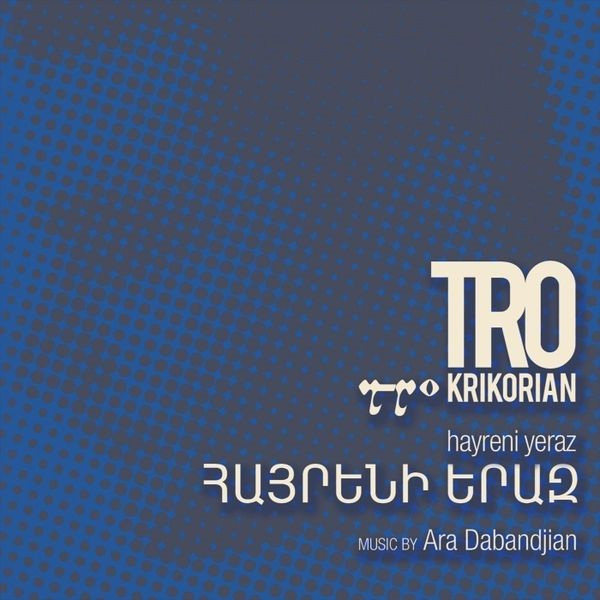 Armenian Revolutionary Songs will be an intimate musical evening with vocalist TRO KRIKORIAN and guitarist ARA DABANDJIAN where they will perform revolutionary, patriotic, freedom and folk songs dear to many Armenians. This performance will also serve as the LA release event of their new album, HAYRENI YERAZ, which includes such favorites as Artyok Ovker En, Seropin Yev Sosetyin Yerke, Yerk Gamavori… CD-signing reception to follow.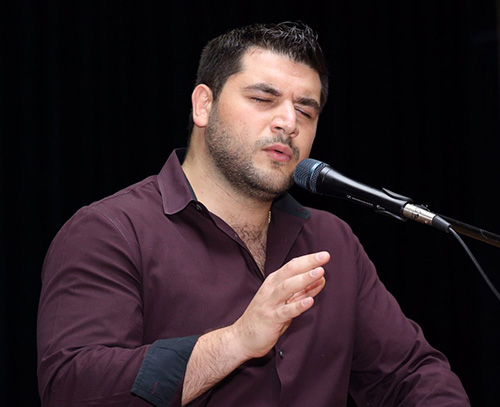 TRO KRIKORIAN
found his love for Armenian folk and patriotic music at a young age. Known for his acoustic performances, he is able to grab the attention of communities worldwide, specially the younger generation. He has collaborated with many seasoned artists and musicians in recent years. The acoustic style of Armenian patriotic music was first adopted and recorded by Tro Krikorian in 2015, in the form of an EP album. Besides being a musician, Tro is a community activist and a professional in the field of Law.
Tro Krikorian's latest release is an Armenian folk and traditional patriotic Album, which includes 14 newly recorded tacks. The album is named after the original track on the album "Hayreni Yeraz" Lyrics by Tro Krikorian and Music by Ara Dabandjian.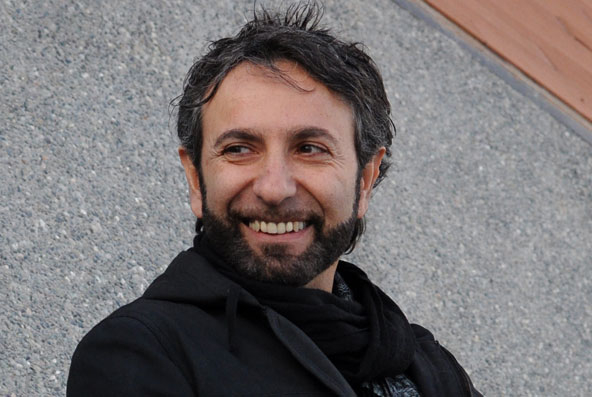 ARA DABADJIAN is the multi-instrumentalist music director of the very popular, Los Angeles based, world fusion ensemble Element Band, which he founded in 2005. His compositions and arrangements deliver unique expression of folk-fusion by incorporating deft instrumentation, lush vocal harmonies, and rich multi-ethnic musical styles that has landed him at the Kodak Theatre, Ford Amphitheatre, Hollywood Bowl, Nokia Theater and Skirball Cultural Center. His works include original score for the 2006 theatrical production of Shakespeare's Love's Labour's Lost performed by members of Tim Robins' Actors' Gang in Los Angeles. In 2007, he reunited with Actor's Gang to write and perform original music for the production of Gulliver's Travels.His most recent works have traces of gypsy jazz, which suggest a different type of fusion for his future endeavors.


---
Abril Bookstore's Music Nights are evenings dedicated to music, through performance, lectures, meetings with artists, and any other experience dealing with Armenian music and any music enjoyed by Armenians throughout the world. Keeping the international aspect of the Armenian Diaspora in mind, these musical evenings will celebrate the music of Armenia as well as the music of the world. Evenings take place on the last Saturday of each month.
---